Welcome to the Coping With Layoff Center, presented by Foguth Financial Group.
If you have been recently laid off, or are worried that you may be, please take a moment to download your report we have prepared at no cost or obligation. You may be laid off through no fault of your own. You are not alone. We help hundreds of people every year successfully navigate through financial circumstances they find themselves in.
We offer a 45 minute review of your circumstances for no cost or obligation, followed by an additional 60 minutes at a separate time after we do our due diligence- again at no cost or obligation to you. We are independent, and our approach is to get you as informed as possible to make educated decisions about what is best for your unique goals and circumstances.
Three ways we can help you right now:

2. Attend An Event
Our educational workshops are packed full of valuable information you need to secure a successful financial future. At no cost or obligation to you, we cover current topics that matter to you and your family, including layoffs, the latest laws that impact taxes, social security and health care.
3. Book An Appointment
Get a complimentary copy of our book, Retirement Spotlight when you schedule an appointment with us!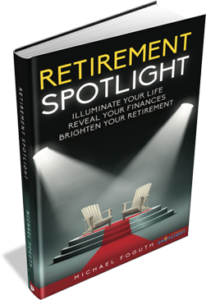 About the Foguth Financial Group
We work for you, and work hard to earn your trust. Safety and growth are the two foundations that we build our financial plan on for you. We educate you so you can make informed decisions and understand your finances. When you meet with us, we answer every question you have, and ask you to be open about every concern so we can solve them. Let us focus on your finances so you can focus on your future.
Featured National Media

Michael Foguth was quoted again by the Detroit Free Press, which just published another article by Susan Tompor about the GM Staff Reduction Plan.
_______________________________________________________________

As GM buyout deadline looms, here are 5 questions to ask
Time.com Money recently spoke with Michael Foguth about early retirement.
_______________________________________________________________

This Is the Only Time You Should Accept an Early Retirement Offer
Photo illustration by MONEY; WHL—Getty Images/Blend Images
Michael Foguth spent some with reporter Susan Tompor from the Detroit Free Press talking about the GM Staff Reduction Plan.
_______________________________________________________________

Considering GM's buyout offer? 3 things to know